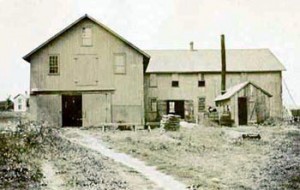 My father owned a large farm north of Middleport known as the Mather Farm. My father, Jay B. Mather, farmed what was the old William Van Horn farm on the Stone Road. Stone Road at one time was known as the Plank road. All of this land was purchase from the Holland Land Co. in Batavia.
Before my family farmed it, William Van Horn raised the hay for the mules that drew the boats on the canal there. I was born on this farm site and lived there until 1980.
The bricks that were used to build the big house and the carriage barn on the farm were made at a brickyard, which was north of the Van Horn Farm on the Stone Road. The bricks used to build the United Methodist Church also came from that brickyard.
Willis J. Mather is an old Middleport resident. He now lives in Sarasota, FL.