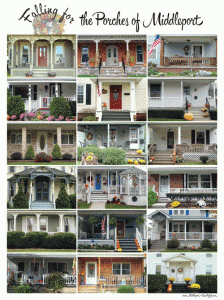 How did the poster featuring some of the many wonderful and welcoming porches in Middleport, NY get made? Photographer Gretchen Schweigert talks about how she photographed some of them and what they mean to her in this YouTube video.
The poster is available for a suggested $5 donation. Funds raised will be used to publish a book about the history of the Village of Middleport written by former Village Historian Anna Wallace. Stop by the Village Hall Monday- Friday from 8:30 to 4 p.m. on Main St. to get your poster. They are also available at the Village Historian's Office in the Masonic Lodge that is open Tuesdays and Thursdays from 10:30 a.m. to 2 p.m.
Posters can also be ordered by mail by sending a check made out to the MATABC (Middleport Area Tourism and Beautification Committee) for $14 to cover the $9 for postage and $5 donation to MATABC, PO Box 114, Middleport, NY.
Many thanks to the homeowners who let us capture their welcoming porches for this fall-themed poster to promote the Village of Middleport.