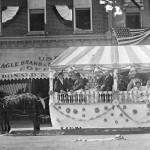 Direct from the Middleport Herald, September 5, 1911
"Labor Day, Monday, September 4th, 1911, will pass into the history of the Union Free School District No. 1 of the Towns of Royalton and Hartland, Niagara County, NY and the Village of Middleport as a notable day in many ways.
The day was the occasion for the laying of the corner stone of the beautiful new $55,000 Union High School building and therefore marks the beginning of a new epoch in educational matters in this district and village.
Following the parade the new cornerstone was laid with appropriate ceremony."