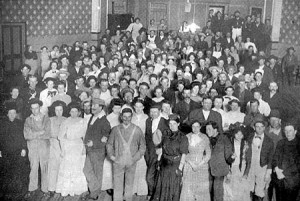 The Star Theatre was referred to as the opera house and was on State Street. On the second floor was a dance hall.
The last play put on by the Middleport High School was performed there in 1924. It was called, "She Stoops to Conquer." I (Bill Shaw) was the manager of scenery for the play.
This photo shows the inside of the Opera House.
At one time, there were two telephone companies in Middleport, Home and Bell. The Home office was over the drug store, which is now Dan Seaman's building on the corner of Main and State St.
On Saturday nights back in the day, Main St. in Middleport was lined with cars. Farmers came into town to spend the evening. They'd shop at the butcher, go to the grocer, to the saloon or maybe to the Fenton Hotel on the corner. A chicken dinner would cost you 65 cents in 1934.
by Bill Shaw