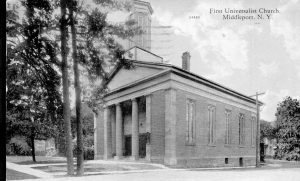 It was back in April of 1841 that the Middleport Universalists organized their church on a piece of land donated by John Craig.
The building of the church was accomplished with smooth, egg shaped stones gathered by the congregation from the shore of Lake Ontario and under the supervision of stone mason Emery Smith.
Reverend Linus Everett was chosen to dedicate the church in 1842. In 1870 the Middleport Church was valued at $8 thousand dollars with the only church bell withing the village as well as the first organ. Due to diminished membership, the church closed its doors in 2015 and the building was sold. Many of their books and some other artifacts were donated to the office of the Village Historian, and are currently on display at the Middleport Village Hall.