Learn more about the Village of Middleport NY's Parks
Margaret Droman Park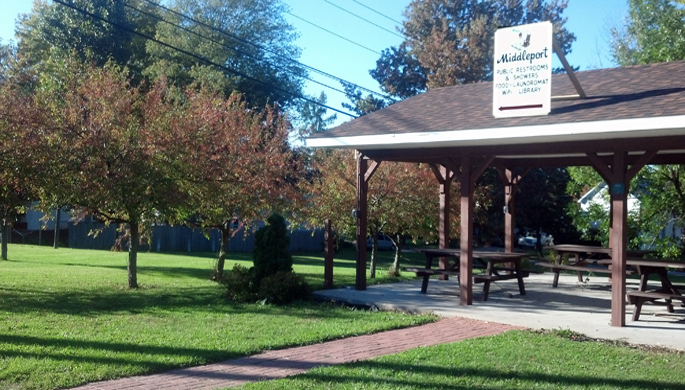 Located on the north side of the canal east of Middleport's lift bridge, Margaret Droman Park offers a picnic pavilion, picnic tables, informational kiosk and large green space to relax and watch the lift bridge work as the boats go by on the canal. Named after the former Village Clerk, Margaret Droman Park is a prefect spot for boaters, walkers and bikers.

Get more details about Margaret Droman Park.
Middleport Outdoor Playground
The Middleport Outdoor Playground is located on the grounds of the Royalton Hartland Central School District's Middle School. It is on the east side of the school and easily accessible from State Street (Rt. 31).

This playground was originally established as a joint venture between the teachers, staff and community. Equipment replacements and some new additions were recently added thanks to the volunteer work and donations of community members. The playground is suitable for a number of different age/skill levels and is open to the public.
Rotary Park and the Scout House

The Scout House and the pavilion are in Rotary Park. The Scout House was generously donated to the Village by the Rotary Club for a place for Scouts to meet. Currently there are 6 – 8 Scout Troops (Boy- and Girl Scouts, Brownies, and Cub Scouts) meeting here on a weekly basis.

The Scout House is located at 131 Telegraph Road, Middleport, NY 14105. Both the Scout House and the pavilion are available for rental.

Here is more information about Rotary Park and the Scout House.
The Commons – Veterans' Monument & Memorial Walkway
The Commons is an area owned by the Village on Park Avenue, between Vernon and Main Streets. This area is also the location of the Veterans' Monument and the Walkway on the Commons where commemorative bricks have been placed in honor of or in memory of loved ones and businesses.

Learn more about The Commons in the Village of Middleport New York.