by Anna Wallace, former Village Historian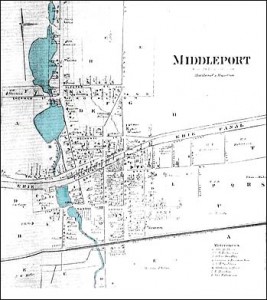 In most of the printed material we read, the growth of Middleport is attributed to the Erie Canal. But some time ago, Elmer Vary, then our native and most senior citizen, felt that a great deal of credit should be given to Jeddo Creek or "Wild Cat Creek" as it was known.
This creek and its four ponds furnished the employment for more than 400 at the 16 manufacturing firms who used the water to power their steam engines, water wheels or both. At one time, the creek flowed all year around, and was a fisherman's paradise. All kinds of fish were caught.
In 1872, about halfway between the railroad and Route 31, the R.T. Chase Cheese Factory made 400 lbs. of cheese per day, the milk furnished by 130 cows. Just north of the Church St. bridge, the first pond was located behind the houses on Orchard St. although it has been filled in for years except for the creek bed. At the corner of Church and Orchard Streets, there was a broom factory, taken over by Dr. E.L. Downey for the bottling of his "Downeyside" liquid insecticide.
The dry docks were on the west side of the pond at the canal; west of the docks a bay opened directly into the canal so that the boats could be floated in and out of the docks. On the east side of the pond was Monroe Woodworth's stave mill.
The next pond downstream was the grist mill pond, extending along N. Hartland St. from Mechanic St. t Sherman Rd. On the southwest corner, the Carey Bothers Ice House stored 12′- 14′ blocks of ice cut from the pond. On the east side, a small culvert ran under Hartland St. to a small pond at the Gould Greenhouse for their water supply. At the northeast corner at Sherman Rd., a 4-storey stone flour mill operated for about 80 years. This pond was nearly square in shape and a waterfall flooded the area that is now Trail Home Estates.
The third pond, or paper millpond, extended from Sherman Rd. to Chase Rd. along Hartland St. At the northeast corner of this pond at Chase Road was the Sterritt Paper Mill, operating two 12-hour shifts per day. This mill was taken over by the Middleport Electric Company about 1903, and supplied the village with its first electric arc streetlights.
The fourth pond ran between Hartland Street and Chase Road, north of the Chase Road bridge. On the northeast corner was the heading mill of George Smith. There were several heading mills, cooper shops and stave yards along this creek, but when the bushel baskets and other small containers began to be widely used in the shipping market, they faded out of the picture.