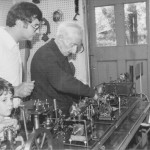 In the early 70's when my husband and I first moved to State Street, we met Margaret and Elmer Vary, our neighbors at 55 State Street. Little did we know what a treasure of a man Elmer had been to this community for nearly 90 years.
His early years were spent from the age of 14 working at the Batavia Canning and Preserving Company where he learned to love the machinery and was always looking for ways to improve their functioning.
At the age of 16 he invented and patented an improved cherry pitter as well several other machines that made work easier at the factory. By 1919 his tinkering turned to the automobile and he opened a garage on Vernon Street, at the site of the present FMC Community Office. He retired from the garage after 42 years during which he gave life back to many automobiles and bikes, giving him a reputation as a most considerate and thoughtful man.
In his retirement he enjoyed tinkering with models which he built from spare parts and would give the children and adults in the neighborhood tours of his garage which housed his wonderful collection.
Mr. Vary died in 1988 at the age of 97, leaving his wife Margaret to survive him until 1990 when she passed at the age of 102.