By Anna Wallace, Former Village Historian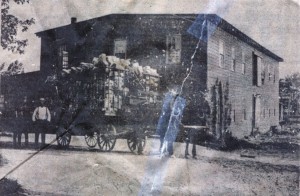 This is how the Basket Factory look in about 1908. Seated on the delivery wagon is Paul McClew of Watson Ave. how is about to leave to deliver 5,000 four-quart baskets to some farmers.
Standing beside the wagon are Ray Harrington, John O'Shaughnessey and J.C. Jackson. Mr. O'Shaughnessey and his brother, Tim, ran the factory at that time.
McClew tells of how often he left the factory at 7 a.m. to deliver baskets and didn't return until 9 or 10 p.m. Sometimes when he got sleepy, if he was close enough to home, he would lay at the bottom of the empty wagon and let his team or horses bring him home to Middleport.