Recollected by Bill Shaw, long-time Middleport resident
We worked on Saturdays too in those days. Someone realized that I didn't have my working papers. I got sent to old Doc Wilmont. He gave them to me and I went right back to work in the machine shop.
In 1925, I began working at Niagara Sprayer as an adult in the sales department. I got a job there because I had helped out on the Niagara Sprayer farm.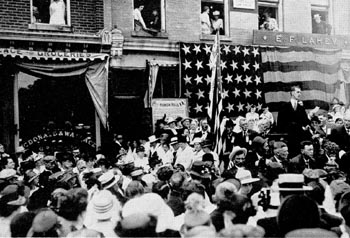 George Thompson, who was President of Niagara Sprayer, ran for the Governor of New York State on the Prohibition Ticket. He was an officer in the power and light company in Lockport too.
After Bill O'Shaunessey burnt his legs on steam, he asked me to run the Basket Factory for a while. I worked there for a few months. The steam was used to bend the wood to make baskets. Logs for the baskets came down the canal sometimes. Pretty much after World War I, the logs were trucked in.
From 1951 until 1977, I went into the insurance business with the Jackling and Shaw Insurance Company. We built the building that is now the Credit Union.
In 1951, I built my house on Vernon Street on the first lot available.
In that same year, I was appointed to Secretary of the Middleport Savings and Loan Association. In 1977 I was the President of the Savings and Loan. I retired from that position, but stayed on the Board until I maxed out at age 75 in 1980.