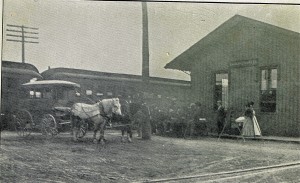 The opening of the canal in 1825 was responsible for much of the growth of this little village of Middleport, New York. It wasn't much longer before the first train came chugging through Middleport, again changing how people were able to transport goods and families to the west.
The first train came through in June of 1852 and by 1853 some 11 trains were traveling through or community per day. By 1888 there was a train every hour all day long and that put a serious dent into the commerce on the canal.
The Hotel Rich had a livery service from the station to the hotel for anyone who needed a place to stay. Middleport became well known for the hospitality it showed to travelers on their way to other places.