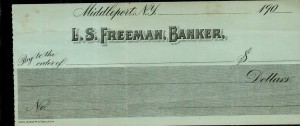 In today's fast paced society, we think little about the ease with which we can deposit or withdraw our savings and do daily transactions with our money.  Many people spend little time in a brick and mortar building since now most of our dealings can be done over the computer or from our car as we use the drive through window or ATM machine.
Early residents of Middleport were fortunate to have two private banks available, one owned by Linus S. Freeman and the other by Charles B. Taylor.  Harvey Hoag would later take over the banking from Mr. Taylor and ran the bank in connection with his drug store.
In 1908 the First National Bank was formed with capital totaling $25,000.  The Community Trust Co. was formed as an additional Middleport bank in 1924 and both banks served the community until the "bank holiday" of 1931.  In 1934, the Niagara County National Bank and Trust Company of Lockport merged with the Marine Trust Company of Buffalo and the local bank became the Middleport office of the Marine Midland Group.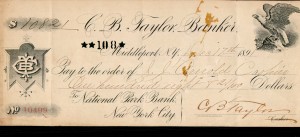 Middleport Savings and Loan Association, formed in 1922, merged with Niagara First Savings and Loan Assoc. and in 1976 opened the new building located at the corner of Main and State Streets.  Anchor Savings Bank merged with them in 1982 but moved its business to Albion and placed the building for sale.
The Middleport Federal Credit Union, formed in 1975 by a small group of interested people, moved their growing business which was housed in the front of the Masonic Lodge to the former Anchor site after merging with Unit #1 FCU , now known at the Cornerstone Community FCU.